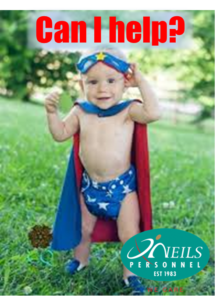 3 little words that can mean so much: "Can I help?"  With O'Neils Personnel you are never alone.
We get it, it's tough! Right? When you need an extra hand (or 3) we are here with the support staff you need. Here is our latest list of hot candidates that are ready to go and here to help! We screen, interview and vet (reference, criminal history check and drug screen*) all our candidate what you are looking for, is not here, please contact our temp desk 093006360 or email temps@oneilspersonnel.co.nz.
* Mandatory drug screening of all warehouse workers. Additional profiles available on request.

ADMIN / PICK PACK TEMP – NORTH SHORE Ref# 36721  
This fit, experienced candidate is now looking for a temp role while she is traveling NZ. With experience in customer service, pick packing and general admin this candidate is a real all-rounder for your business. Don't miss out!
OFFICE ALL ROUNDER Ref# 6394   
This bubbly and vibrant candidate has over 15 years' experience in admin, sales and customer service. She has worked in a variety of industries and has good commercial sense. She is conscientious, intelligent and would be a great asset to your company.
ACCOUNTS CLERK / DATA ENTRY TEMP Ref# 31733
Do you have need of a data entry operator or accounts clerk? This candidate has high attention to detail and excellent accuracy. Happy to put her hand to anything she can hit the ground running.
OFFICE MANAGER / ADMIN TEMP – SHORT TERM Ref# 28725
Do you need assistance with your accounts or admin? Look no further! With a holiday booked at the end of August this candidate is looking for short term work to keep her busy. Having strong experience with accounts and all areas of admin this lady can slip into your team and look after whatever you need.
ALL ROUND TEMP Ref# 36801 
This candidate has recently graduated from University and is looking to gain further experience in the work force while she decides on an area to focus on. She is ready for all challenges and is able to put her hand to anything. Her previous managers have described her as an efficient and reliable worker with a strong sense of initiative!
ACCOUNTS CLERK Ref#36850
AP / AR, cost accounting, payroll, product of yield reports – the list goes on for this hardworking, honest and loyal candidate.  They come with high praise from their past employer, based in Fiji, and they seek their first job opportunity here in NZ.  Great attitude, highly motivated and capable.  Immediate start!
ALL ROUNDER – ADMIN / LOGISTICS / SUPPLY CHAIN Ref#36740
With over 10yrs experience in the field of Electronics, Design and Build, R&D and Accounting this experienced Exports Co-Ordinator / Administrator has the luxury of offering a wealth of varied experience.  Flexible, adaptable and efficient best describe this candidate.  Immediate start!
SENIOR EXECUTIVE  Ref#22126
This is a highly motivated, results driven professional that consistently demonstrates superior performance in a range of complex and demanding environments. Strategic and analytical this high calibre Executive is open to contract work.
CUSTOMER SERVICES / RECEPTION Ref# 30710
Warm, bubbly and articulate are words that immediately spring to mind to describe this customer focused candidate. With excellent communication skills and a proven administration background this is a value add candidate.