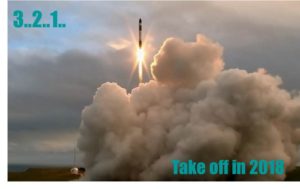 Welcome to 2018!  This is your boarding pass to blast into the New Year! We spent all summer holiday recharging our batteries in preparation of the busiest time of the recruitment year. The first quarter of the New Year can be a time of staff movement and attrition. Quality candidates are always in demand!
Aim for the stars with our current list of Hot Candidates, if what you are looking for is not listed, please contact your consultant.
Bring it on 2018!!
BEAN COUNTERS
SENIOR FINANCIAL ACCOUNTANT Ref # 6732
In interview this candidate demonstrated a confident, calm demeanor that exuded warmth. Solid intermediate level financial accounting experience, he is ready to take the next step towards Finance management. Tertiary qualified. Solid verbal references prove his worthiness as a candidate of interest. Call Lara Evans NOW!
AMAZING ADMINISTRATORS
OFFICE MANAGER Ref #37396
This candidate has many years' experience in general office management and accounts. He has great longevity in his roles and is looking for his next challenge. This candidate is proactive and on the ball, with great attention to detail. If you want a great all-rounder to join your team and stay long term…Call Francesca Webb
OFFICE ALL ROUNDER Ref #37707
This candidate has experience with administration, customer service and accounts type roles in various different industries. This candidate is a steady worker, who is always willing to lend a hand and help out. She is available immediately!! If you want somebody to add value from the day they walk in…Call Francesca Webb
ADMINISTRATION / SALES SUPPORT Ref #23738
This candidate has over 10 years' experience in various administration, sales support and even marketing type roles. She has worked in various industries and therefore has great transferable skills. This candidate is efficient and has high integrity. She is ready to hit the ground running in a new, challenging role …Call Francesca Webb
SERVICE COORDINATOR Ref #37565
If you seek someone who is vibrant, energetic, hardworking and has the references to match – then look no further! She has a varied background consisting of accounts, administration and service coordination. With advanced scores for both Word and Excel this hot candidate is sure to add value to your business. Call Lara Evans
SOLE CHARGE ADMINISTRATION MANAGER Ref #37715
This grounded candidate has been described as having a great work ethic, reliable and conscientious. She has 17+ years admin management and operations experience within the manufacturing industry. With stable tenure and good references, this hot candidate is available for an immediate start … Call Lara Evans
SALES NINJAS
TELESALES  Ref #37543
Do you want somebody who can be described as a top performer and has a natural ability to build rapport with customers? This candidate has many years' experience in various sales environments. He is ready to jump into a new role and hit the ground running…Call Francesca Webb
ACCOUNT MANAGER Ref # 6968
This polished sales professional understands how to establish rapport quickly and build trust based on selling benefits and regular follow up. Started his life in the building industry selling timber – has since branched out into selling advertising. Is seeking long term stability with a reputable company. Comes with good references – consistently meets sales targets. Revitalise you sales efforts for 2018- arrange an interview with this capable sales star. Call Annette Sleep
TERRIFIC TEMP CANDIDATES
ACCOUNTANT Ref #37555
This hardworking and commercially astute Accountant has over 15 years of experience in a CA and BAS environment. She is loyal and trustworthy, and has a great knowledge of accounting packages and systems. If you want somebody who is a master of Xero and owns their work and always acts in the best interest of the Co. then… Call Alex Volschenk
OFFICE ALL ROUNDER  Ref #31301
Do you want somebody who will hit the ground running and be willing to put their hand to anything? Look no further. This candidate is a great office all-rounder as she has had experience with administration, customer service and sales support type roles. She is incredibly reliable and accurate, who takes pride in her work and is very trustworthy…Call Francesca Webb
STOREMAN – FORKLIFT REACH STOCK PICK OPERATOR  Ref #37663 
This switched on and physically fit candidate seeks a warehouse role in South Auckland. She wants an operations role where she can get stuck in and add value. A solid and reliable candidate that lets her actions do the talking. Call Alex Volschenk
STOREMAN – FORKLIFT / REACH Ref #37501
Class 1&2L licences – with over 10 years' experience in the warehouse space. This quality candidate seeks a new role in 2018 to expand his skills. This forward thinking and experienced candidate seeks to add value in YOUR business today! Call Alex Volschenk
OFFCICE ALL ROUNDER  Ref #30452
Do you want a candidate who can put their hand to just about anything? This candidate has over 12 years of admin, sales and customer service experience. She has worked in a wide variety of roles and industries and is looking for her next challenge. If you want somebody with a can do attitude and conscientious in their work… Call Alex Volschenk
SALES ADMINISTRATION ASSISTANT Ref #37694
Warm, down to earth and open are the first few words that spring to mind when you describe of this stylish candidate. Originally from Brazil she has been working part time in NZ since November 2016. With a varied industry background she seeks to stay for the long run and launch her career in NZ … Call Lara Evans
HEAD HONCHOS
FREIGHT & LOGISTICS GURU Ref #22219
A highly motivated and organised people leader, renowned for his ability to work under pressure, he is an enthusiastic team player with a positive attitude to match. This candidate brings forward thinking management to the table that will ensure the success of your co. Call Alex Volschenk
NATIONAL SALES MANAGER Ref # 31505
Looking of a Sales Manager who knows how to sell? Who leads by example and inspires your reps to achieve their monthly sales budgets?? Look no further…this tertiary qualified dynamo is the complete package. His verbal referees confirm he is a professional and disciplined sales leader. Available for an immediate start – Top candidate – Call Annette Sleep
FANTASTIC FREIGHTIES
WAREHOUSE SUPERVISOR #17796
With over 20 years of warehousing and inventory experience this candidate brings a wealth of experience and knowledge to the table. This loyal and hands-on candidate will ensure your co is running at its very best – with a big smile on his face!  Call Alex Volschenk
SHIPPING – EXPORT / IMPORT / CUSTOMER SERVICES Ref #35906
With a wealth of knowledge and experience in the shipping industry this loyal and committed candidate will add value to any team they join. They are industrious, work well in a team environment and have excellent organisational skills.  Seeks work in the North shore or Auckland CBD. Call Apii Jack
EXPORT / IMPORTS Ref #37656
Commences studies next year, is here on Student Visa from Brazil and is a switched on and intelligent individual with 6 years overseas experience in Export / Imports. Able to work 20/hrs a week during studies and full time during holidays.  Could be perfect when you need that little bit of help during those busy periods where a full headcount just isn't warranted.   Call Apii Jack
IMPORT SEAFREIGHT Ref #25959
Has worked for over 4 years for NZ freight forwarder and is looking at studying next year.  Has high level intelligence, high output and is competent in operating and learning new computer systems. Relates well to customers and colleagues alike.  Available for 20/hrs per week and full time during holidays.  Call Apii Jack
EXPORT ADMINISTRATOR Ref #37402
Committed and capable this hot candidate has the ability to put her hand to anything. With 20+ years exports experience this candidate has extremely stable tenure with the references to match! Available for an immediate start she is sure to add value to your business. Call Lara Evans