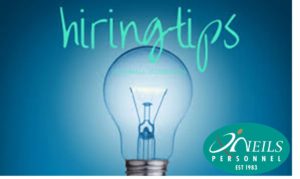 Where have all the good candidates gone?
It's tight out there! It feels like all the candidates have gone into hibernation for winter.  So here are some of our top tips for hiring in a tight talent pool:
Don't muck around. The good ones won't wait around for a 1st interview in a weeks' time.
If you find an acceptable candidate, don't wait to compare them to 2 or 3 others that you may (or may not) find. Comparison has become a luxury.
Be prepared. Know the role you have open so you can sell it! That's right! Tell the candidate why they should choose you and what this role and your company can offer them. Present a Job Description, and if you don't have one, brain dump what you know about the role onto a piece of paper. Something is always better than nothing and candidates will perceive how organised you are.
Transferable skills – think outside the industry to identify those common skills that can be applied to your role (problem solving, sense of urgency, customer focus etc.). If I had a dollar for every time I heard "I don't have time to train"….. But the reality is unless you are overstaffed and can cover the vacancy for 3 or 4 months you are going to have to do something different.
Consider a migrant. They can bring a wealth of industry experience from their country of origin. With minimal training, they could be up and running!
Once you are happy to make a job offer, ensure the employment contracts are presented within a day or so of the verbal offer. Otherwise, you could be giving your competition time to woo your hard found new hire. (Refer to Tip #1)
Sweeten the deal. Highlight whatever it is that your company (or you as a manager) does that is special or unique: Friday drinks, team building days, birthdays off etc. put it out there!
As always we are here to help and we feel your pain. Below is a selection of some of the best talent we have on our books at the moment. Roll on spring! And hopefully many of those hibernating candidates will come back onto the market!
OPERATIONS
ENTRY LEVEL Ref#37102
Having recently completed their Diploma in Shipping and freight this entry level candidate is looking to put their knowledge into good use!  They enjoy a challenge, can work well under pressure and like to problem solve. Hungry to learn and looking for a chance to prove themselves!  Call Apii.
SENIOR EXECUTIVE Ref#1981
This financially astute Senior Executive has a wealth of NZ freight forwarding knowledge that spans well over 20+yrs.  Best described as a critical thinker who is results driven, this leader and motivator seeks a new challenge! Call Apii.
EXPORT SEA Ref#3852
Over 15yrs in export sea freight roles, from the customer perspective, this organised, professional and trustworthy team player is looking for their next long term role, having spent the last 6 years with their last employer. Available for an immediate start and rearing to go! Call Apii.
IMPORT / EXPORT Ref#37089
With a good eye for detail, strong customer services skills and 10+yrs overseas Import / Export experience, this candidate seeks their first freight forwarding opportunity in NZ.  They possess excellent communication skills and an Open Work Visa. Call Apii.
IMPORT / EXPORT / CUSTOMS Ref#36753
Described by their referee as, "skilled in all areas related to Import / Export operation and logistics", this switched on candidate with overseas experience in Russia seeks a job offer.  Current Visa expired December 2017. Worked in NZ since October 2016 – they are learning the Kiwi way! Huge potential! Call Apii.
WAREHOUSING
WAREHOUSE / DISTRIBUTION MANAGER  #37061
This candidate has over 10 years of experience in the warehousing, distribution and logistics arena's. He is well versed with managing staff and being hands on in his role. His referee describes him as hardworking and loyal.  If you want a candidate who can add value from the moment they walk into the door…Call Francesca Webb
STOREMAN / FORKLIFT REACH OPERATOR  Ref#36293
This switched on and physically fit candidate seeks a warehouse role in the Mt Wellington, Otahuhu or Onehunga areas due to transport limitations.  Has worked for our agency before and our client LOVED their work.  Highly rated as a great performer in the work place.  A must interview if your business is in the areas they seek work. Call Apii.
OPERATIONS / WAREHOUSE SUPERVISOR Ref#37003
Even keeled, problem solver and excellent staff management skills are words that immediately spring to mind to describe this very experienced Warehouse / Production Supervisor.  Available for an immediate start. Call Apii.
PICK PACKER Ref#37090
If you seek a reliable, honest and hardworking candidate who enjoys working in a Pick Packer role – look no further! Worked with last Employer for 9+yrs and only left because the company closed.  Seeks their next long term role! Available for a start in 2 weeks.  Call Apii.