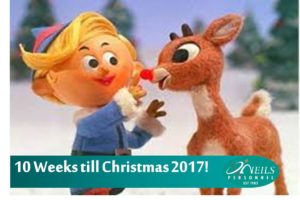 Not to stress you out, but its 10 weeks today until Christmas!
While we all love the festivities and parties that come with this special time of year, it is also the busiest time of year, especially for the retail and logistics sectors. Recruitment need not be a hassle! But the next 2 weeks are critical in selection, hiring and on-boarding if you want to make the most of your new hire and ensure they are adding value. As always, O'Neils is here to help! See below a selection of our latest Hot candidates to help you handle the Christmas madness!
If what you are looking for is not listed, please contact your O'Neils Consultant for a confidential chat.
BEAN COUNTERS
FINANCE ADMINISTRATOR #33466
This candidate has over 20 years of accounts experience and is looking for her next step! She has great initiative and is not afraid of hard work. Reliable and trustworthy, she is ready to add value to your business from day one! Call Francesca Webb
PAYROLL/ADMINISTRATION #36098
Do you want an employer who has the attitude no task is too big or small? This candidate has experience with payroll, general accounts, customer service and administration. She is hardworking, trustworthy and willing to put her hand to anything. If you want somebody with a great attitude and to stay long term …Call Francesca Webb
ACCOUNTS ADMIN #37284
This warm and down to earth candidate has a strong background in accounts administration and the stability to match. Placed by O'Neils Personnel into a freight forwarding company, she has stayed with this employer for 20 years! Make room as this hot candidate could be the next asset to your business! Call Lara Evans

ACCOUNTS PAYABLE – Large ledgers (ANZ) Ref #36919
Looking for a Senior AP Officer capable of handling large ledgers both in New Zealand and overseas?? Look now further! This stable candidate has genuine reasons for seeking new employment. Ideally she is hoping to work in West Auckland or on the North Shore – CBD is also a possibility. You will not regret meeting her. Call Annette Sleep

AMAZING ADMINISTRATORS
OFFICE ALL ROUNDER  #37508
This candidate has experience with sales, administration and customer service. She is a great all-rounder who will bring life to the office. This candidate is sales driven, with a great attitude and work ethic. She is available immediately!! If you want somebody to add value from the day they walk in…Call Francesca Webb
SALES SUPPORT #37275
Are you looking for a Sales Support person that thrives in chaos? This confident and assertive candidate may be your answer. Described as someone who is great at dealing with people from all backgrounds and a good negotiator, this hot candidate can add value to any business! Call Lara Evans
CUSTOMER SERVICE STARS
CUSTOMER SERVICES #37361
Do you seek a candidate that truly has a passion for customer services? Then we have the candidate for you! With strong attention to detail and an exceptional attitude, it will seem like she has been with the business for years! Tertiary qualified and available for an immediate start – get in quick! Call Lara Evans

CUSTOMER SERVICES #37407
This highly self-motivated and well organised candidate seeks a customer focused role where they can utilise their passion for providing top notch customer services!  Extremely well presented with fantastic communication skills and a smile to light up the room, this intelligent individual is ready to come work for you!  Call Apii Jack
CUSTOMER SERVICES – ENTRY LEVEL #37404
Bright, switched on and energetic are words that immediately spring to mind to describe this outgoing candidate.  They seek their first fulltime office role where they can utilise their first class customer services skills and begin to develop their computer skills.  This is your opportunity to mould them into your ideal candidate!  Call Apii Jack
TEMP CANDIDATES
MOTIVATED OUTBOUND TELESALES #37273
Motivated, persistent and thick – skinned are the first words that spring to mind when you think of this candidate. With a sound background in business development and account management, she has a hunger for sales and a thirst for results. This is a value add candidate so get in quick!  Call Lara Evans
ACCOUNTS PAYABLE OFFICER  #36991
This candidate has over 9 years of high volume accounts payable experience in various industries. He is well versed with building relationships with customers to ensure a smooth operation. If you want a candidate who is passionate about AP and will go the extra mile for your business…Temp to perm option available. Call Alexander Volschenk
ACCOUNTS RECEIVABLE MANAGER  #37349
This candidate is an experienced AR manager that takes great pleasure in helping people and encouraging them to achieve their best. She has great attention to detail and thrives on problem solving and reconciliations, finding where an error has occurred and understanding how to correct it. If you want someone to drive your business forward that is positive and outgoing with the skills and experience to back it up …Call Alexander Volschenk
ADMINISTRATOR / CUSTOMER SERVICE  #7984
This candidate has a great customer focus and uses her initiative in all she does. She has over 18 years' experience being the first point of call for customers, processing orders and general administration. If you want a warm and friendly face to represent your company then… Call Alexander Volschenk
SALES NINJAS
SENIOR TELEPHONE ACCOUNT MANAGER / Business Development – SALES STAR Ref 21850 Looking for an Account Manager who will actively hunt out new business from your existing accounts AND bring on new clients?? Look no further…This polished sales professional is a determined sales performer who consistently over achieves his sales budgets. Comes with excellent references.  Call Annette Sleep
KEY ACCOUNT MANAGER – Building products (cabling) Ref #36919
This candidate is unafraid of cold calling. He has the skills to build a client base and retain it. Has commercial smarts and the determination to succeed. Is a solution seller with a strong technical aptitude. Is open to a new opportunity ideally with a stable company offering long term employment. Call Annette Sleep
SALES MANAGER  #34752
This candidate has over 10 years of sales experience in various industries. He is well versed with building relationships with customers, seeking out new business, account management and everything in between. He enjoys building, mentoring and managing teams. If you want a candidate who can truly take care of your clients and grow the business…Call Francesca Webb
HEAD HONCHOS
NATIONAL SALES MANAGER #37189
If you seek an experienced senior manager, with strengths in developing and executing strategies to grow and maintain business, then look no further.  This candidate brings a wealth of knowledge in the industrial, commercial construction and steel sectors, along with a proven success rate in managing and developing staff.  Call Apii Jack
MANUFACTURING / WAREHOUSE
PRODUCTION #37245
With well over 10yrs experience in South Africa, throughout the production arena from hands on work as an Operator / Assembler to Production Planner and everything in between, this sophisticated and confident candidate seeks their first role here in NZ. This is a value add candidate! Call Apii Jack
WAREHOUSE / DRIVER #32123
Forkhoist, Reach, Class 2&4 licences – this quality candidate with a technical lean seeks a Warehouse, Driver or Warehouse/Driver role.  Excellent communication skills with a whole lot of commons sense,  this respectful and experienced candidate seeks to add value in YOUR business.  Call Apii Jack
WAREHOUSE SUPERVISOR #37217
Great attitude, great tenure – 14+yrs with current employer straight out of school so has gradually worked their way up the ladder.  Physically fit, highly self-motivated and looking for a new challenge!!!  Ready to take that next step into a Warehouse Managers role. Call Apii Jack
WAREHOUSE MANAGER #37282
Extremely strong background in the automotive industry, this very experienced Warehouse Manager seeks their next long term role after 9yrs with their current Employer.  Immediate start and eager to share their wealth of warehousing knowledge.  Runs a tight operation and is well respected by customers, colleagues and staff! Call Apii Jack